Programmes on a shoestring budget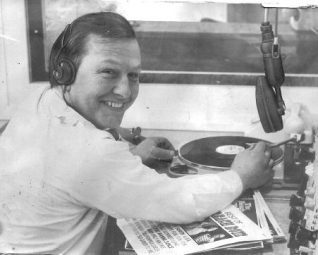 From the private collection of Mike Matthews
A four letter word!
There were four producers/presenters on Radio Brighton. Besides myself there was Hilda Bamber who like me, was trained in radio in New Zealand.  John Henty, who incidentally had never broadcasted in his life, and finally Keith Slade a very talented theatrical producer. John Henty was in a panic for most of his first year. At one point not long after we opened in one of his panic attacks he said a four letter word live on air. There was not a single complaint, maybe that was indicative of what a vast audience we had.
The countryside programme
I was given the afternoon programme, the countryside programme, the only pop record programme allowed called 'Spin to Fame' and interviews. In the early years, the emphasis was on structured programmes rather than the open-ended magazine shows which have since become more common. The flagship was the breakfast news programme 'Coastwise' which the three of us did in turns. The non-needle time music consisted of music from Hans Schmidt-Isserstedt, a German conductor and composer, and many more like him. On my programme for the elderly. I managed to find an old chap who came in to recite his own monologues for free; if you had heard him you would have understood why.
Do you remember early Radio Brighton days? Please share your memories by posting a comment below.
A whole £5 budget
My countryside programme was a half an hour also on a £5 budget each week. An official from the National Trust was most helpful, along with other contributors who gave their time free to the programme. I mainly had to go outside the Brighton area for this programme to places like the Sussex Wildlife Trust at Henfield, and Drusilla's Zoo at Alfriston. Because of my knowledge of nature and the countryside this was a good well thought out programme and had a good audience.