Maverick times at Radio Brighton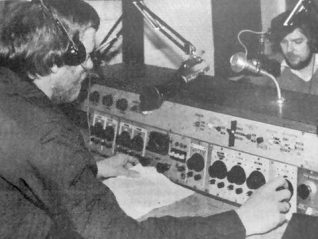 From the private collection of Bob Gunnell
First job in broadcasting
In the photograph here I am the beardie reading the news on the right hand side of the desk. I learnt many skills at Radio Brighton thanks to Bob Gunnell and his news editor Bud Evans in what was my first job in broadcasting after newspapers. When I started, Radio Brighton used the 24-hour clock; it sometimes confused listeners and we had to correct contributors live on air. But it did show how continental we were by the sea.
Antiquated tape pulley system
We also had a fantastic Heath Robinson tape pulley system in the main studio, so we could delay the start of the Radio 4 news bulletin on a loop of tape until we finished the local headlines and someone pressed 'play'. If the presenter wasn't quick enough, the studio assistant had to grab a spool on a pulley, take up the slack and run across the room with it. At the controls in the picture is the now sadly departed freelance Brian Deacon who was discovered (by me) doing a kids' hospital radio show in Worthing.
Maverick times
I sometimes pass the current Brighton studio, but can't imagine it can all possibly be as much fun as it was in those maverick times. Looking back, you started with the local audience and basically did more or less what you wanted until local radio HQ told you to stop. Sometimes the results were quaint- like those broadcasting bus controllers. But when the Athina B ran aground between the piers, when a Red Arrow crashed or the Brighton Marina first opened, we were there. Happy Days.
Do you remember?
Do you remember Radio Brighton. Who were the presenters and what sort of shows were on there? If you can, share your memories of those early days by posting a comment below.