1972 a great year at The Dome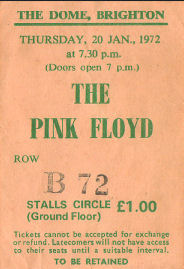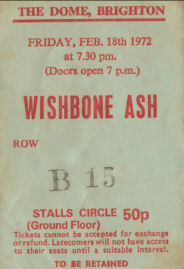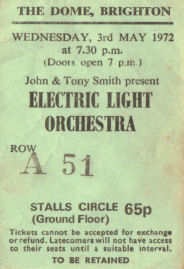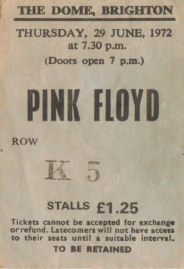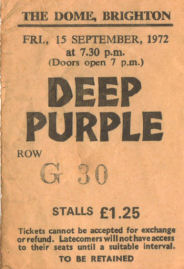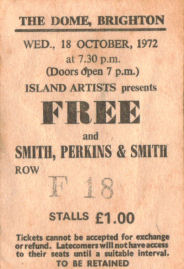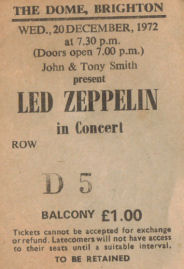 Fabulous groups
As 2012 is coming to an end I wanted to take this opportunity to register what a great year 1972 was at The Dome for music fans. We had some fabulous groups play in 1972 and luckily I kept my ticket stubs. I turned 15 years old in 1972 so it was a good age for me and my friends to be. Some of my friends didn't like these sort of groups as they were too heavy, they preferred the mainstream pop, this was okay but back then, whatever music you were into sometimes made a difference to who you hung around with and where you went socially.
Music and fashion
Music guided your fashion tastes, Carnaby styles or the nearest retailer of tye-dyes and flared jeans, what you watched on TV – Top of the Pops or The Old Grey Whistle test, or whether you listened on the radio to The Top 20 on a Sunday afternoon or Sounds of the '70's at 10pm on a weekday. I always believed that the Radio bosses liked my music as they broadcast the programmes I liked on VHF (now FM) and not AM.
The top bands
As you can see by the ticket stubs, we had some top bands that year, Pink Floyd was a great gig to be at as it premiered 'Eclipse' or what everyone now knows as 'Dark Side of the Moon', this was the gig where the equipment broke down during 'Money' so they came back in June and played two nights. I went to the second night, I knew what to expect this time and made a point of being in the centre stalls; the price went up by 25% but I don't think anyone minded! 
A rare performance
Wishbone Ash were always a favourite for fans at The Dome, very clear and clean guitar playing and excellent live, they came twice in '72 playing again on 24th November and the price went from 50p to £1.10. Again, nobody seemed to mind as it was a sell out. ELO had just formed and the night they played The Dome it was about a quarter full which may have been due to Brighton & Hove Albion attracting 33,000 that night as they won promotion. A few people missed a treat as we saw a fabulous rare performance with a line-up that included Roy Wood sporting a long white wig and round dark glasses, before he left to form Wizard.
Three heavyweight bands
Then there were the three heavyweights, Led Zeppelin, Free and Deep Purple. What a three months that was. It was very exciting – quite a hit on my wages from my part-time job I had, but well worth it. I have been a fan of Free ever since I heard the LP 'Fire & Water' in 1970, the line up didn't include Andy Fraser as he had formed Sharks who came to the Dome in 1973 as support to Roxy Music.
Forty years ago yesterday
The replacements were Tetsu & Rabbit on bass and keyboards. They did not disappoint and were excellent, as were Deep Purple who were reported to be the loudest band in the world at the time. Of course the one everyone was talking about was Led Zeppelin, forty years ago yesterday as I write this. What a gig to go to at that stage of their career and at The Dome as well. I will never forget that moment when the lights dipped and you could see the outline of Robert Plants hair, then a sole light was on John Bonham as he went into 'Rock & Roll'.
Awesome talent
Of course there were other good years, I was a big fan of Genesis when Peter Gabriel was with them and saw them at the Dome on the 1st November 1971 for 50p supporting Lindisfarne. They came back twice in 1973. Rory Gallagher also made a couple of appearances during 1973 and 1974. I saw Curved Air a couple of times, they were a good live act but the gig of theirs that I do I remember was on the 28th April 1972, when a young Gary Moore supported them with his band. I was in the front row (seat A20) and Gary was playing right in front of me and my friends, he was an awesome talent.
We were very lucky
People I speak to now say how lucky we were to see these acts so cheap. I like to point out that I had a friend who worked full-time and only earned £9 per week which, when you work out the percentages to salary and costs these days it is not that much difference. The cost is irrelevant, If you were to ask a young Led Zeppelin fan now, and there are many of them, how much they would pay to go in a time machine and go back to 20/12/72, I would bet it would be in the hundreds, even thousands if they had the money, so yes on that basis we got it cheap!
An absolute gem
As for today, I think the Dome is still a wonderful venue, an absolute gem. There are some good concerts to be seen there now but the amount of gigs has dwindled but I think we were very lucky to see so many top acts in such a short space of time.