David Bowie at The Dome 1973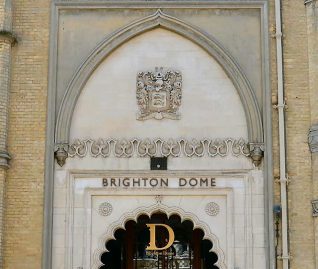 Concert at The Dome
It was 40 years ago on Wednesday May 23rd 1973 that David Bowie performed at The Dome. He played two shows that evening; I went to the second one which I think started at about 8.30p.m. I had queued up all night with a friend for a ticket a month earlier, so I was really looking forward to seeing this gig. I had become aware of David Bowie when 'Space Oddity' was released a few years earlier. Bowie's popularity had became so huge following his creation of 'Ziggy Stardust' and 'Starman' that tickets were like gold dust for this show.
Queued all night for tickets
When the tickets went on sale the previous month, me and a friend started queuing at around midnight; we were about 30th in the queue. At around 6.00am I went for a walk and the queue was along New Road, down North Street and along by the old 'Brighton and Hove Herald' offices towards the entrance to the Pavilion. I was 16 at the time and about to leave school so it was an exciting time.
No dancing in the aisles
I was staying at my Nan's flat in Bates Estate on the day of the gig, and so caught a number 13 bus from The Avenue. On the way down to The Dome I could see all the fans from the early gig, and it looked like most of the boys had raided their sister's wardrobes. Everyone was on their feet from the start of the show which did not go down too well with The Dome management. They were quite tough at the time about dancing in the aisles. There used to be a big sign over each side of the stage, warning people not to dance or the show would be stopped.
A very special night
This show went a step too far, as quite a few seats were damaged where people had climbed on them I think a ban on David Bowie performing there again was put in place; I wonder if that still stands? It is in my top ten gigs of all time, not just for the music but for the fact that it was a major music event. Seeing the 'Ziggy Stardust' tour in 1973, and the fact that David Bowie went on to be a major force in world music means that I saw something special that night.