Three hundred people - a three quarter person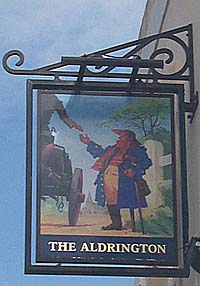 From a private collection
Apparently there were only 8 or 9 people living in Aldrington in 1603. This rose to around 200-300 by 1670.
Later, the storms of 1703 and 1705 created havoc, and the population dwindled in Victorian times, but what exactly happened to those people? Did they fall into the sea?! In 1831 the population was recorded as being just two (the gate keeper and his wife).
The best 'early' story I have found concerns the toll-gate keeper. Apparently, he lost his leg after which his wife left him. The official records then state the population being only 3/4 of one person!
This falls into place, when you see the sign for the The Aldrington pub.