Memories of the entertainment scene, 1950s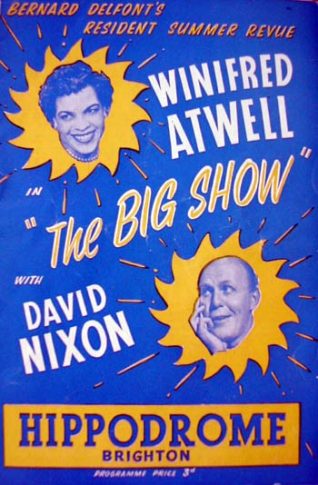 From the private collection of Trevor Chepstow
I clearly remember being taken by my parents to see many shows at the Brighton Hippodrome in the years following World War II. The audience, sycophants to the last, applauded every act as if it were the greatest entertainment ever. They had paid their half-a-crown (25 pence in today's play-money) to enjoy themselves, and enjoy themselves they jolly well would, come what may.
Some performers stand out in my mind, however, including Max Miller, because he was 'dirty' and I a grubby adolescent. Delightful too, was the great Max Wall, with his funny walk, but top of the crop, for me, were the hilarious antics of Wilson, Kepple and Betty, those stone-faced exponents of the Egyptian 'sand dance'. They don't make 'em like that any more – a fact for which the modern masses will undoubtedly give thanks.
Smash hits and flea pits
Still better things were to follow: Brighton, at the mid-point of the twentieth century, hosted shows destined to become smash hits in the West End and I found myself in a privileged position, as a raw junior on the Brighton and Hove Herald, having virtual carte blanche to mingle with the stars backstage at all of Brighton's entertainment houses
The British film industry was also at its peak in the post-war years until television brought entertainment into our living rooms. There were about a dozen cinemas in the town, some of them 'flea pits' patrolled by usherettes armed with 'Flit' sprays but all the major chains were there too, regularly hosting premieres with star guests.
The theatre-going public had the choice of the Hippodrome, the Grand, the Theatre Royal and the New Theatre, all attracting national stars. Oh, and I nearly forgot to mention The Dome and a short-lived Music Hall in West Street, nearly opposite the Ice Rink.
Onstage successes and backstage shenanigans
My first successful attempt at theatrical front-of-house photography was for Michael Hall's production of 'Toad of Toad Hall' at the Theatre Royal in the early 'fifties, while back at the Hippodrome 'Carousel' was enjoying huge success with Edmund Hockeridge in the lead role of Billy Bigelow. I became immersed in the backstage shenanigans there as a not-exactly-invited but not altogether unwanted guest and I still feel strong emotion whenever I hear 'You'll Never Walk Alone', as I did, a few months back, in an unmissable performance at The Regent Theatre, Ipswich. Never was a box of Kleenex tissues put to better use!
A youngish actress called Dora Bryan
On the last night of Carousel's Brighton run, some of the cast and production team went back to a flat on the sea front for drinkies. I don't know if I was invited but in showbiz circles such niceties don't really matter. I was there, anyway, and clearly remember that little basement dwelling on Marine Parade (do I remember correctly – Marine Parade above, Madeira Drive below?) with its small paved courtyard at the back, partly roofed over with glass. A couple of days later, by coincidence, I was sent by my paper to see a young(ish) actress, Dora Bryan, who lived next door.
A few years ago, some 40 years after the event, my youngest son telephoned me at my then London home to say that he had taken a job in Brighton and had a basement flat on the sea front, nearly opposite the lift. His description of it sounded familiar and I asked him if it had a glass-roofed back yard. No, he told me, but there were some metal brackets high up on the wall. "And did a now-famous actress once live there?" I asked. Yes, she did, and still owned the house, he was able to confirm.
They don't make 'em like that any more
But I digress. This did not start out as a name-dropping exercise (and 'why not?', you may ask – it is show business!) but to gather my thoughts on the subject of popular entertainment. Just my personal views, but I am permitted to express a tinge of sadness when I scroll through the showbiz obituaries of the last half century and see the names of so many people, some of them unknown or forgotten today, who hold close personal memories for me. Names such as Max Wall, Arthur Askey, Bob Monkhouse, A E Matthews, Jessie Matthews, Eric Portman, John Mills, Yehudi Menhuin and oh, so many others, in whose shadows I briefly walked.
My theatrical connections ended many years ago and I am out of touch (and out of step) with the more recent entertainers. They just don't make 'em like that any more, do they?