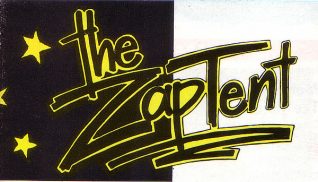 Image from the Zap archive
The Zap Tent, emerging as part of the Brighton Festival in 1986, developed into a vital entertainment space for all things dynamic, sensational, affecting. Its yearly programme of events featured a diverse and alternative mix of musicians, comedians and performance artists from across the globe – from favoured Southern local comedians like Simon Fanshawe and Peter McCarthy, to Northern poets like Roger McGough, to European contemporary playwrights, to African 'world' musicians – bringing interest to a broad spectrum of the Brightonian festival-going public.
At the close of each year's festival, Zap Tent traditionally held the 'Zap Awards' – a chance for honourable mentions to be made to the performers who had whipped up most audience wonder. Zap Tent grew in popularity and success over the years, going on to tour round other festivals in the country and give new talent platforms from which to experiment, as well as much-needed opportunities for public recognition of their art.
Remember this? Remember similar events in Brighton and Hove around the same time? We want to hear from you. Use the Add a Comment link below or contact cora@mybrightonandhove.org.uk with photos or information.
In particular, we want to know if you have any other Zap filofax inserts. Did you, or anyone you know, receive a Zap Award? And do you know what year the Zap Tent ended?