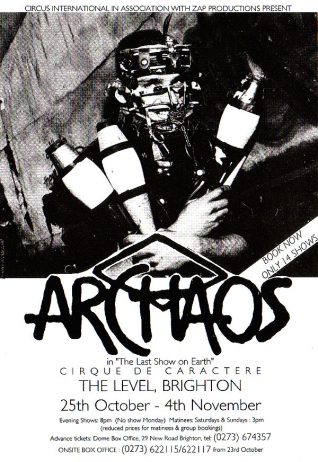 Image from the Zap archive
Archaos was an anarchic alternative circus consisting of dangerous acts and stunts – from fire-breathing to chainsaw juggling – that never used animals to enhance performances. Zap brought this French company, with their show 'Cirque de Caractere' (The Last Show on Earth), to Brighton in 1990. Archaos mixed elements of ancient circus technique with the contemporary; it brought tradition to the present with sights and skills which were at once shocking, challenging, frantic, chaotic and always unpredictable. Audiences could watch as 'crazed clowns strapped to corrugated iron' were 'mown down by motorbikes whilst running amock with flaming chainsaws' and backed by a 'pounding soundtrack and pyrotechnics' claims the Zap autumn programme.
The circus was contentious: authorities banned Archaos from playing at the Level under the premise that it was 'too dangerous'. Yet this was a show that interested a local community known for its alternative-minded, ethically conscious majority and Zap organisers succeeded in allowing the show to go on, this time outside the city centre, at Stanmer Park.
Remember this? Remember similar events in Brighton and Hove around the same time? We want to hear from you. Use the Add a Comment link below or contact cora@mybrightonandhove.org.uk with photos or information.
In particular, do you remember anything further about the banning incident?