Streets of Brighton, 1994-present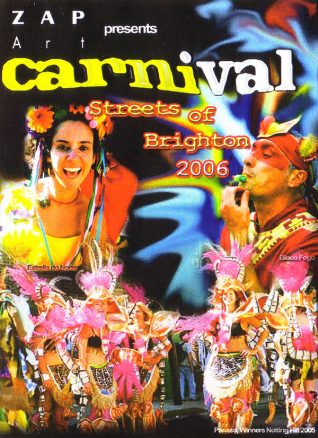 Image from the Zap archive
Zap have long been involved in the promoting and enabling of street art festivals. In 1998 'National Street Arts Festival' was created by Zap, bringing together and helping to fund street festivals all over the country.
Streets of Brighton is one of the biggest and most vibrant celebrations of all street festivals in the UK and is also a key component of the Brighton Festival programme. Streets of Brighton 2006 brought a mixture of sublime and surreal contemporary theatre, slapstick, carnival and circus to spaces across the city for its twelfth year running. Highlights this year were 'Groupe F' pyrotechnic display and 'Souterrain' landscape theatre.
Remember this? Remember similar events in Brighton and Hove around the same time? We want to hear from you. Use the Add a Comment link below or contact cora@mybrightonandhove.org.uk with photos or information.