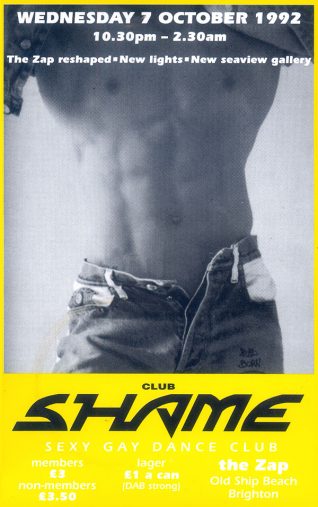 Image from the Zap archive
The late 1980s and 1990s was an important time in Brighton's gay and lesbian cultural history. This period saw expanding public knowledge of the stories and events in the lives of a largely silent community in the form of shows, exhibitions, magazines and books. New important measures were taken to protect the community from victimisation, and to support it through celebrations, such as the alternative Miss Brighton contest, the first Pride in the Park in 1992, and earlier, in 1989, Club Shame, set up by Paul Kemp and held at the Zap Club on Wednesday nights.
Gay Times called Club Shame "the blueprint of gay clubbing for the nineties" with its unique blend of performance art and rave culture. It attracted a cutting-edge dance crowd from places beyond Brighton and a specific bus for the night transported Londoners down to the South Coast; Shame was a great success, paving the way for a broader, less localised gay nightlife in the city from then onwards. Today, Club Shame no longer exists, but has been reincarnated in the form of Wild Fruit, a monthly club night held at Creation, and is perhaps the biggest, most renowned event on the gay social calendar.