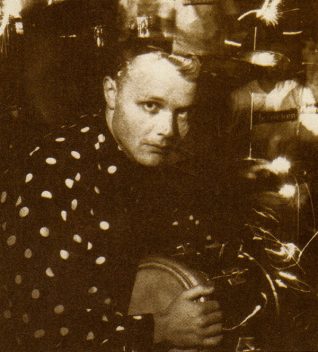 Photo by Steve McNicholas, from the Zap archive
Luke Cresswell and Steve McNicholas were originally known for their successful cabaret musical group, PookieSnackenburger, which busked on streets around the UK and Europe and was later incorporated into a television show of the same name. The two also worked together at Cliffhanger theatre and in 1986 they formed a new band, the Yes/No People, yet another band to play at the Zap Tent. Amid numerous other musical/theatrical projects they produced and directed a show called Stomp which debuted at the Edinburgh Festival and, following widespread acclaim, came to the Zap Club in 1990.
Stomp was a show without plot and without dialogue; it was a combination of movement and sound intent on provoking thought, ideas and feeling. Everyday objects such as brooms and bins, were employed in unusual ways to build up an orchestra of sound. Stomp was another show to play at the Zap Club, which had by now brought thousands of innovative imaginative shows to new audiences.
Remember this? Remember similar events in Brighton and Hove around the same time? We want to hear from you. Use the Add a Comment link below or contact cora@mybrightonandhove.org.uk with photos or information.