Liz Aggiss and Zap tenth anniversary season, 1980s-1990s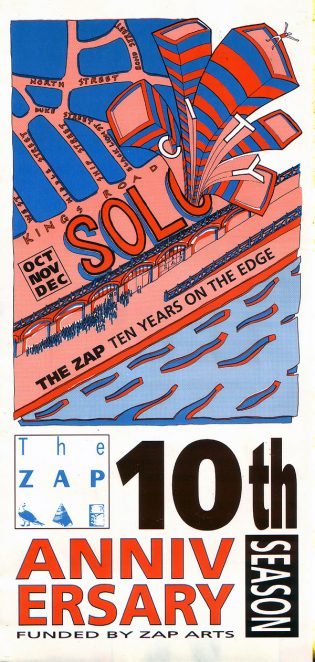 Image from the Zap archive
Award-winning performer, choreographer, film-maker, animateur and teacher, Liz Aggiss was a regular feature at the Zap Club, with her particularly striking interpretations of avant garde dance theatre. Much of her work has been in collaboration with Billy Cowie; notably in 1982 they founded the 'Wild Wigglers', a visual vaudevillian act. Aggiss' work, a cornucopia of dance theatre, visual performance and live art, was clearly a perfect addition to the Zap Club inventory of exciting artistic experiment.
To mark the ten year anniversary of Zap experimentation and cultural mutation, a six-month programme of events was put together for the public to enjoy. John Dowie, Ian Smith and others all figured in this programme, at the centre of which was Aggiss and Cowie with their latest show 'Canciones de amor que se fue'.
Remember this? Remember similar events in Brighton and Hove around the same time? We want to hear from you. Use the Add a Comment link below or contact cora@mybrightonandhove.org.uk with photos or information.
In particular, can you remember any other performers who, like Liz, combined multiple artistic elements and styles?