Opening of the arches, 1984-1997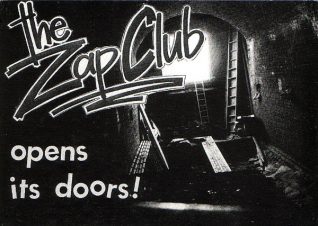 Image from the Zap archive
The opening of the seafront arches in 1984 gave Zap its first ever permanant home in Brighton. Prior to that Zap existed solely as a touring club from 1982-84, taking live art and entertainment to venues across the city – regularly at the Brighton Belle, Royal Escape, Pavilion Theatre and the Richmond. Brainchild of Neil Butler, the new Zap Club aimed to fill a space in the city's current choice of entertainment with new nights of alternative cabaret, music, dance, food and drink. Sheer hard work, determination and years of experience in business and the arts were what helped turn this vision of Butler's into a reality and 150 tons of earth into a spanking new club that attracted performers from across the country and packed-out crowds. Even on the opening night, the new club drew queues and queues of people all hoping to get in. Marc Almond, Wet Wet Wet, Soul II Soul, Kathy Acker, Paul Oakenfold, almost every Brighton based performer – the list goes on; Zap brought thousands of performers to the club.
It was architect Anthony Browne who was responsible for the actual conversion work of the two arches and in the years that followed, as the Zap grew in popularity and success, it eventually became possible to expand the club to fill four arches, turning it into what it remains as today: the biggest established club on the seafront.
Remember this? Remember similar events in Brighton and Hove around the same time? We want to hear from you. Use the Add a Comment link below or contact cora@mybrightonandhove.org.uk with photos or information.
In particular, we want to know what your first impressions of the club were. Do you remember who played on the opening night? Or perhaps you were involved in the conversion work. Can you tell us something about that?