It's just a huge rubbish dump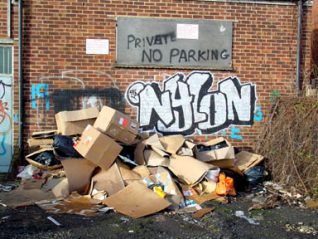 Photo reproduced with kind permission of www.imagesbrighton.com
The saddest thing I find about Brighton is the litter. One thing I hate is litter. I come from a village outside Milton Keynes where there was very, very little litter, but here it's just a huge rubbish-dump. Even along the beach it's the same, which I find very sad. It's not soul-destroying, but it is a bit sad.
Spoilt by the laziness of others
I think Brighton is a beautiful place; that's why I moved down here. There's no excuse for it, no reason for it, it's just the laziness of people who'd rather throw things away.  The litter strikes me more than anything else, probably because I'm new here and tend to walk around a lot. It's pointless taking a car, because most of the places I want to cover are along the front. Because you go that much slower you can see a lot, so you can see the litter and it's sad.
Moving to Brighton
Originally I'm from London – I'm a city boy at heart. A friend moved down here five years ago, and I spent many weekends with him and his girlfriend, and fell in love with the place. The opportunity came up to move down here when I took early retirement from the RAC so I thought well, why not? I'm divorced, so I've got nobody else to worry about. Now I live in Hove. I thoroughly enjoy the place – there's so much to do, and the sea is only ten minutes away. I just wish they'd clear up the litter!