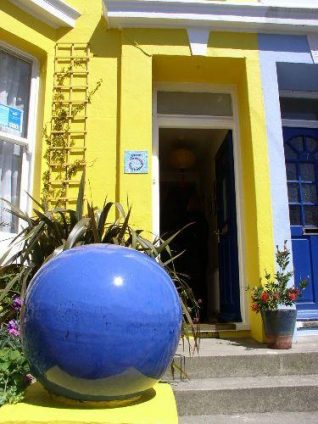 Photo by Alexander Bruckner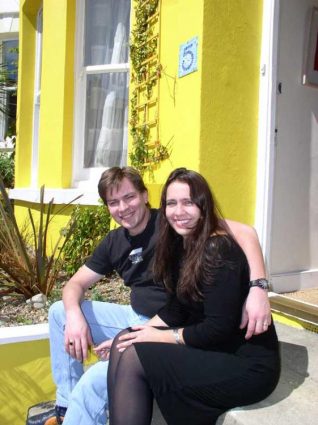 Since 2000, Jehane has opened her own house – "The Yellow House" – for the Brighton Festival, inviting a different group of leading professional artists every year. The Open Houses are an integral part of the Brighton community, enabling visitors to meet professional artists in a personal environment. They are a fascinating & effective way to experience art, and also provide the perfect platform for communication between artist & buyer.
The Yellow House is a victorian terraced house in Cuthbert Road, near to Queens Park, Kemp Town. It has been home to Jehane Boden Spiers and Alexander Bruckner since 1999. Jehane & Alex bought the house with the Open House already in mind, so much of the renovations and decor decisions were made in order to create a sensitive environment for displaying artwork.
The success of the Yellow House Open House exhibitions led to the founding of an on-line gallery in 2001, www.yellowhouseart.com. Unique in being the first of its kind, the website enables visitors to the open house, and art lovers, to individually buy or commission artwork from yellow house artists all year round. It features not only the artists of 2004, but also includes an archive of artists from previous years, and preview artists for 2005.
In October 2004, www.yellowhouseart.com won the 2004 Brighton & Hove Virtual Festival Web award for "Best Local Arts & Music Site". The site offers artists great functionality, and as a result of an in-built data-base, all artists are able to log in to a secure area where they can be in control of their portfolios by loading images, changing prices, listing future exhibitions etc.
If you would like to be kept up to date with Yellow House events, just email jehane@yellowhouseart.com, or go to the website www.yellowhouseart.com and join our mailing list. We will then keep you up-to-date with special offers and of course let you know details of the next open house.
You can't miss the Yellow House!