Eradication in the early 20th century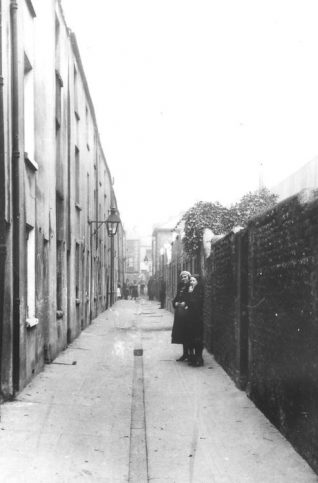 From the private collection of Tony Tree
The eradication of the worst of Brighton Slums started in the Victorian Period and continued throughout the first two thirds of the twentieth century.
Definition of a slum
Slums were considered to be houses built of inferior quality material with poor sanitation however many disagreed on what constituted a slum and were not happy that they were going to be re housed in new modern flats and houses located in the Moulsecoomb and Whitehawk area. An old woman of a row of cottages on Leicester Street was offended that her house, which she felt so fortunate to live in, was described as a slum (David Arscott,2002).
Extremely poor conditions
Some slum areas in Brighton included places around Carlton Hill, Albion Hill, Eastern Rd (Ken Fines, 2002) and houses that use to occupy the area of today's Churchill Square. Most of the houses had insect infestations as well as toilet and cold water washing facilities only available in the back yard. However for many there was a secure life style that went with living in the slum areas of Brighton, which included a strong community spirit.