Two storeys at street level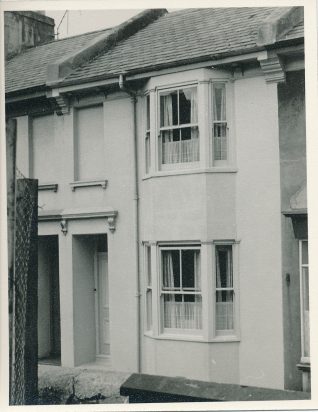 From the private collection of Barrie Searle
Outside toilet

For a time I lived in a terraced house which consisted of two storeys at street level. There were two rooms on ground level and three rooms on first floor level. As the ground sloped front to back there were four stairs leading down to the scullery.The toilet was outside the rear of the house and it had no bathroom.
Built on solid chalk
The houses had very little in the way of foundations as they were built on solid chalk. The walls were built in a form of rubble i.e. lumps of flint, stones etc bound together with a lime cement mix. The outside of the house was rendered in a hard cement finish, which in fact, helped to hold the walls together. Of course the walls were solid not cavity as we have today.
Originally gas lit
The inside walls were mainly stud construction, finished, as were the ceilings, in laths and plaster. The plaster was lime based mixed with horsehair to bind it together. The internal wall plastering was so soft you could push your finger through it, therefore I ended up stripping the old laths and plaster from the walls and ceilings (a filthy job) and replacing them with plasterboard. Originally the houses were lit by gas but by the time I bought the house electric lighting was the norm.
Draughty windows
Inside the houses were some original plaster features such as coving and corbels. The windows were timber, vertical sash, counterbalanced by iron weights. If you were unfortunate enough to have your head out of the window when a sash cord snapped (usually through the cord ageing) then the sash would descend like a guillotine…not much fun! The windows were draughty and rattled a lot when the wind was high. Rubber wedges were plentiful in hardware shops to wedge the windows to stop them rattling.
Problems with woodworm
The timber basement floors, due to lack of damp course and poor under-floor ventilation, rotted. These were usually stripped out and replaced by concrete. Because of the absence of damp proof course (DPC) the lower walls were often damp. The other problem was woodworm in the roof timbers and flooring, although this did not appear to cause any significant weakening to the structure. You may be surprised to learn that these these houses are still standing!