Memories of a middle distance runner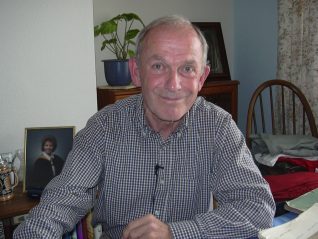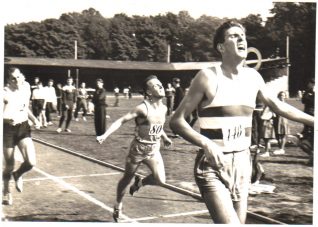 From the private collection of Roy Taylor
Getting posted to Truleigh Hill
[In the RAF] I was retrained on a navigational aid and we were dispersed to radar stations that had this navigational aid round the coast. We were asked to state a preference as to where to go. I wanted one near an athletic club. Truleigh Hill near Shoreham was clearly a possibility because I had been reading the AW (Athletics Weekly) avidly and I knew all  about Brighton and all about their star distance runners and I felt it would be quite good to be part of that set up. So I put down Truleigh Hill.
My first training run with Brighton AC
I thought I had got to be pretty fit if I am going over there and so I ran 54 miles in 10 days and then went over to Moulescoomb and when I got there all of their stars were out. They used to meet at a community centre at Moulescoomb and every week the run was the same. They went up to the outer reaches of the Coldean Estate and back. It was relatively easy for about 3 miles and then an absolute tear up three miles back. Paul Abrahams, who was a 4 mins 8 university runner, sat in the changing rooms afterwards and said 'You're pretty fit'. I was pleased.  All of their stars were there on the first night and I managed to hold on. That was the start.
The stars of Brighton AC
Hugh Foord was the main star. He was ranked 4th or 5th in the country at cross country and 6 miles on the track. There was Bert Foster who in 1954 had run 30.23 for 6 miles and 9.23 for steeple chase. There was Paul Abrahams who at that time had run 4mins 8 for a mile, there was Bruce Theurer who ran for many years for Brighton and who was probably under 31 minutes for 6 miles. There was Dick Newington who was much the same, Gordon Barnard who at that time would run about 1min 57 for 880 yards. So they'd got a fair sprinkling of decent athletes. In the mid to late 1950s they were a very good cross country club.
Why I joined Brighton AC
Brighton AC hadn't yet amalgamated with Hove. It was just Brighton. And there were separate men's and women's clubs as well at that time. Hove weren't Hove at the time, they were Southdown AC – they were small. I thought to myself I could have been a star at Southdown or I could have been one of the numbers at Brighton but I would have got better races and stood a better chance of improving and I fancied being part of the bigger set up and mixing with a few stars.
Hugh Foord was the inspiration
In 1959 I ran 4 22.7 for a mile. That was 6th best in the county. I did 31 03 for 6 miles and actually got in the national rankings. I was 93rd in the national rankings. Hugh Foord was the inspiration. We trained on Tuesday night. Hugh took Tuesday night as his easy night and we were doing 6x 880 in 2 14 with 880 recovery. We were doing 12 x 400 inside 70. Hugh was quite enlightened. We were doing ½ lap rest but occasionally we were doing it with 100m jog in between. That was the main session in the week but we also ran as a group on Sunday morning and we probably ran 8-10 miles. We met at Withdean and it was straight out up towards the Dyke and just in the area around the Dyke. When Hugh retired I succeeded him as the club 3 mile champion. I got down to 14 46. I had a good season in 1963 but after that it went pear shaped. I got injured and had other commitments.
On the London to Brighton relay
One year we were 8th. I still hold the club record for the 4th leg which will never be broken. That particular year I stood at Purley waiting for Hugh to arrive because Hugh did the long leg from Mitcham to Purley. I don't think we had run too well on the first two legs but Hugh ran a blinder. You stood there waiting to take over and the course came round a right handed corner and you couldn't see anybody until he was 100 yds away from you, and Hugh came round the corner in 3rd place. So I took over from Hugh in 3rd place and managed to get the 5 miles to Merstam with only dropping one place. That was a club record in 26 41. The Reigate Relay was just getting started. We won the first one and it's been a top event ever since. We won the first one and I didn't make the team, (two years later I was only in the B team) I was only just behind Ray Roseman and Tim Briault, 10th fastest lap in the Reigate relay was probably one of my better races.