Star player: Gordon (Gordie) Poirier 1914-1972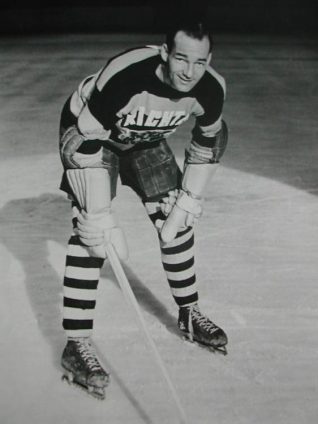 From the private collection of Trevor Chepstow
Born in Maple Creek, Saskatchewan, Canada, Gordon Poirier was one of the greatest ice hockey players to wear the famous black and yellow colours of the Brighton Tigers in the pre and post war era. At the age of fifteen, he started with his first Junior Ice Hockey team, known as "Columbus". A year later, he joined the "St Francois Xavier" Ice Hockey team and then the following year moved to one of the most famous teams in Canada, the "Montreal Canadians", as a junior.
Italian Olympic team coach in 1936
On reaching senior status, Gordie got his first trip abroad and was appointed coach to the Italian Olympic team for the 1936 games at Garmisch. Shortly after returning to Canada, he was talent-spotted by Don Penniston and signed to play for the Brighton Tigers. He made his debut with the Tigers in 1936 alongside the legendary Bobby Lee, who was also signed by Don Penniston.
The crowds go wild
With his dark, dashing good looks and amazing hockey skills, Gordie was an immediate success and soon became the star of the Brighton Tigers. The crowds would scream the roof down as he scored one goal after another, leaving the opposing team players in total disarray. This was perhaps something to do with his ability to shoot a puck at a defending goal keeper at over 100mph.
An all round athlete
Originally playing centre ice, Gordie was best placed playing defence; with the intelligence normally reserved for chess players, his great ability was always to be able to find a position to best defend the goal. An all-round athlete, Gordie was good at baseball, lacrosse and was a top canoeist, but hockey was his best game.
Wartime service
During the Second World War, Gordie joined the Royal Canadian Artillery and rose to the rank of Captain. After the war, he returned to play for the Tigers to great success then went on to play for Harringay in 1950/51, finally returning to Canada to open a restaurant and run an import business.
A Brighton Tigers stalwart
Gordie Poirier will be remembered as one of the stalwarts of the Brighton Tigers in their heyday and is commemorated in the British Ice Hall of Fame. Gordie passed away following a heart attack in Montreal in 1972.