Brighton Tigers Net-Minder, 1946-1953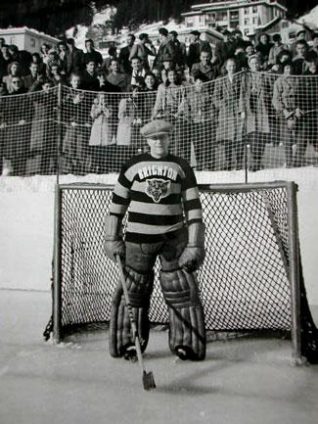 From the private collection of Trevor Chepstow
Canadian born Gib Hutchinson was considered one of the most brilliant net-minders of all time and will be best remembered from his time with the Brighton Tigers.
Originally from Swift Current in Saskatchewan, Gib came to Britain in 1936 to play for the Earls Court Rangers. Unfortunately Gib only survived one season with the Rangers and, with his future looking bleak, he was forced to seek employment as a carpenter at the Earls Court Exhibition Centre in London.
Net minder
Gib's gainful employment was short-lived due to a hockey injury to the Rangers goalie and an SOS was sent out for Gib to step into the position of net-minder. Had it not been for that quirk of fate, British Ice Hockey might have lost one of its finest net-minders!
Gib's war
Gib played for the Rangers until the start of the Second World War and went to work at the Hawker aircraft factory, occasionally playing during the war years as guest for the RCAF Ice Hockey Team. With Wembley re-opening after the war, his first stop was to apply for the net-minding position with the Wembley Lions.
The Tigers
Eventually, when the English National League resumed, he joined his old pal Bobby Lee at Brighton. With Gib in the net and Bobby Lee at the helm, they took the Tigers to their first League title. The period from 1946-1953 turned out to be the glory days with the Tigers scooping every trophy in sight!
Gib's last official game was on Thursday 30th April 1953 where the Brighton Tigers won 8-4 against Nottingham Panthers. After retiring from hockey he became stage manager of the Tom Arnold Ice Shows at the Brighton Sports Stadium and later ran a number of public houses in Sussex.
Marriage
Gib was married to the daughter of British Heavyweight Champion, Bombardier Billy Wells. (Billy Wells was the man who banged the large gong at the start of all Rank films).
Death
Gib Hutchinson died peacefully in his sleep on December 30th 1996, at the Mile Oak Inn, Portslade near Brighton at the age of 84.