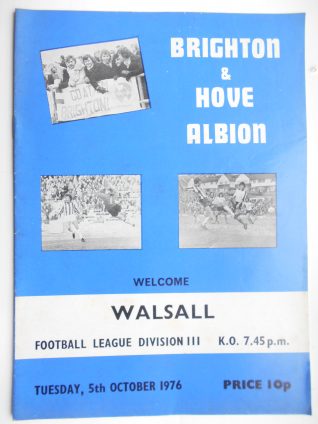 From the private collection of Paul Clarkson
Albion in Division 3
It was Tuesday the 5th October 1976 and Albion were riding high in Division 3. They had a useful side at the time and were on the rise and only three years away from making it to the old Division 1. At the time I had just got married and we were living in Queens Road. I remember that it was a very wet day and it seemed to rain for about twenty four hours. I worked at 'ITT Creed' in Hollingbury, and I got soaked going to work and soaked getting home again in the afternoon.
Rained the whole day
I had a long black coat that I used to wear and when I put it on at 6.30pm to make my way to the Goldstone ground it was twice the weight due to the amount of water it had taken that day. It was still raining and continued to rain all evening as I made my way up to Brighton Station to get a train to Hove.
Not bad attendance
The attendance for the match was 14,204 which was not bad considering the conditions; the east terrace was quite well occupied considering it was open to the elements. I took to the relative comfort of the west stand terrace on the south side of the players tunnel. The first half was dull and ended 0-0, it was a dire performance from both sides and the atmosphere was very down. 
Revelation in 58th minute
What I did notice then, was that people were starting to leave, they had obviously had enough, were wet and bored, so called it a night. Estimates at the time were that about 4000 left because the east terrace became very empty and there seemed to be loads of room as the second half began. Then it happened in the 56th minute, Brighton scored! They then scored 6 more in the next 28 minutes winning 7-0.
Do you remember this match? Have you any other Albion memories? Post a comment below
The Albion players
The scorers in the game were Peter Ward who scored four, and Ian Mellor who scored three. The Brighton side were Peter Grummitt; Ken Tiler; Harry Wilson; Brian Horton; Andy Rollings; Graham Cross; Gerry Fell; Peter Ward; Ian Mellor; Steve Piper; Peter O'Sullivan; Dennis Burnett (sub). So did you stay the course and enjoy the second half? Or maybe you went home and hit the roof when you saw the score on the television?