Freedom to Roam Guide to the Brighton Downs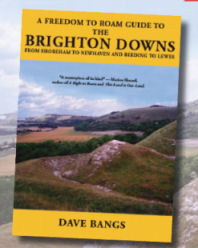 Some parts of the Brighton Downs are famous, like the Devil's Dyke and Clayton's Jack and Jill Windmills. Most of them, though, have no right of public access and remain unvisited and unknown. This book opens the door to those secret places, particularly those fragments of ancient Down pasture that have survived 60 years of agribusiness.  We cannot defend the Downs if we do not know them. Yet, once known, the Downs will delight us all our lives long.
Interesting landscapes
Most countryside guides just provide general information on chosen landscapes, or they may describe public 'trails', like the South Downs Way, or suggest 'pub walks', or circular walks on rights of way. Some wildlife guides give information on important nature reserves. This guide breaks those limited patterns and describes all the interesting landscape sites on the Brighton Downs, whether there's a right of access or not. It focuses particularly on the traditional old Down pasture sites, because these form the most important local habitat.
Book of two parts
Part One is 'The Backstory'.This extended section has some landscape history, some natural history, some geology and archaeology, and quite a lot about the way the growth of the Brighton conurbation has altered our Downs. Part Two is the 'Site by Site Guide'. This is where you look if you just want to glean some information on good local Downland to visit. Brighton Downs is divided the into 22 sub-landscapes for descriptive purposes.
'A Freedom to Roam Guide to the Brighton Downs' by local author David Bangs, whose previous book was, 'Whitehawk Hill: Where The Turf Meets The Surf', is a 'must have' for anyone who wants to learn more about the wonderful natural resource that is the Brighton Downs.
Book price £15: local delivery by arrangement at £2 charge.
Contact: David Bangs. dave@brightondowns.co.uk