The Alex Story: A portrait of Brighton's Childrens' Hospital 1868-2007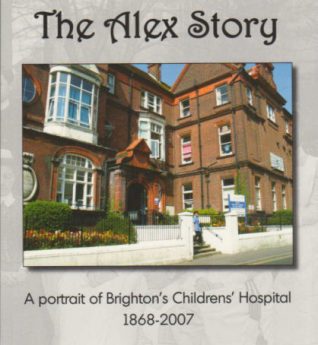 In August 1868, one of England's earliest children's hospitals opened in two or three rooms in a property in Western Road, Brighton.
Modest beginnings
From this modest beginning emerged what was arguably to become the town's best loved hospital, The Royal Alexandra Hospital for Sick Children.  Certainly the news that the building it eventually occupied in Dyke Road was to be replaced with a brand new building on the Royal Sussex County Hospital site was not greeted with universal approval.  Indeed, a campaign was launched to convert the doubting parents and some hospital staff of the necessity for change.
Archive photographs
Using pictures and material from hospital archives and a range of other sources including former patients and members of staff, this book charts the development of 'the Alex' as is was affectionately known, from its humble beginnings to become one of the country's leading children's hospitals until its eventual closure in 2007.
The author
The author, Harry Gaston, began work as a junior clerk in Brighton hospitals in 1950 and took early retirement in 1983. He was founder and editor of the hospitals' national award winning house journal for forty years until 2007. He helped in the research and wrote the commentary for two major photographic exhibitions of the history of hospitals in Brighton and Hove, including The Alex Story on which this book is based.
Lavishly illustrated
The Alex Story is lavishly illustrated and contains historic black and white photographs as well as two chapters of full colour photographs of the hospital's final days.  Not only does The Alex Story chart the development of this most important hospital, it also allows the reader a fascinating glimpse into the experiences of children, parents and professionals whose lives it touched.  This is a 'must buy' book for anyone interested in the history of this well-loved institution.
The Alex Story (ISBN 9780955846717) price £12. On sale at City Books in Hove and Kemp Town Bookshop.