Brighton Diaries by Ken Chambers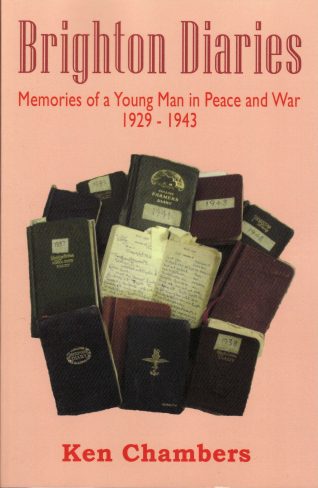 Memories of a Young Man in Peace and War 1929-1943
Ken Chambers grew up in the QueensPark area of the city. In Brighton Diaries he takes the reader back to his birthplace and those pivotal times during the 1930s and the early period of WWII. Ken's remembrances of his adolescent years are filled with close friends, with idyllic camping trips and long walks along the cliff tops.
Joined the RAF
When WWII started, in order to learn to fend for himself and also 'do his bit' for the war effort, Ken moved north to work on a farm; he then joined the RAF. It was a time in his life when letters became the means of maintaining precious contact with his family and friends.
Tribute to his cousin
Ken revisited his extensive collection of diaries, notes and letters in order to write his book. In particular, he wanted to chronicle a tribute to his cousin Cyril who was his closest friend and boon companion. Cyril lost his life in WWII and it is clear that it was a loss still keenly felt today.
An extraordinary story
We are all used to seeing the diaries of the rich and famous on the bookshop shelves.  Ken Chambers is neither rich nor famous, but his is an illustration of an ordinary life which became an extraordinary story. His writing style is fresh and engaging and his literary voice a mixture of youthful exuberance and the wisdom of old age.
I would thoroughly recommend this book. For those of Ken's own generation it will be a wonderful trip down memory lane. For the younger reader it will provide a unique glimpse into a world far from their own experiences.   You can buy Brighton Diaries: Memories of a Young Man in Peace and War 1929-1943 at local bookshops and online at Amazon. ISBN: 978-0954429959