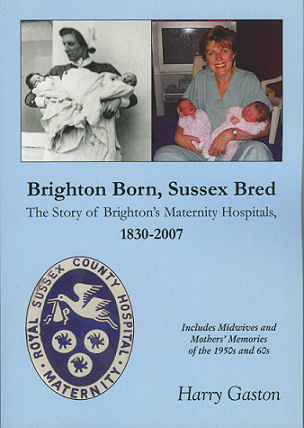 Two hundred years of maternity care
Brighton Born, Sussex Bred shows how maternity care nationally has developed during the past two hundred years since Charles Dickens' day when midwives like his fictional Sarah Gamp caused so much pain and suffering.  Even during the past fifty years, within the lifetime of the many mothers and grandmothers who tell their stories in the book, the experience of childbirth has changed beyond all recognition.
Home births the norm
Two hundred years ago giving birth in hospital was so dangerous that most babies were born at home. When the Royal Sussex County Hospital first opened in 1828 the regulations prohibited the admission of women who were 'big with child'. The original Sussex Maternity Hospital sent its midwives out into Brighton to deliver women (who had to be married) in their own homes. Several years were to pass before a few beds were set aside for women whose confinements were thought to be especially difficult. Apart from this small minority (and unmarried mothers giving birth in the workhouse) home births were the order of the day.
A woman-centred approach
In the 1990's the idea that giving birth should become woman-centred took hold and hospitals like the Royal Sussex County encouraged women to make choices about their pregnancy and labour, including the place of birth. Although debate persists about its safety, not accepted by its advocates, giving birth at home is now an option chosen by a significant minority of women.
Extensive and painstaking research
The way these changes have taken place is explained in Brighton Born, Sussex Bred. It tells the story of Brighton's maternity hospitals: the Sussex Maternity, Brighton General and, since 1970, the Royal Sussex County. The author, local historian Harry Gaston, has previously published four other hospital books. Like his previous publications, this book is written in a very accessible style and is the result of extensive and painstaking research.
To obtain Brighton Born Sussex Bred:
Copies are £12.00 – available directly from Friends of Brighton & Hove Hospitals or via bookshops and at Amazon.
*It is on sale locally at City Books and Kemp Town books now.
*By post:  Cheque for £12 – payable to Friends of Brighton & Hove Hospitals and sent to the address below.  Books dispatched within two working days.
*By BACS:  email hospitalfriends@lineone.net with the number of copies you require and your name and delivery address.  We will provide BACS details and dispatch the books as soon as payment is received.
*Unfortunately we cannot accept credit card payments.
*For collection:  orders can be collected from The Friends Shop, 95 St James's Street.  Email your order and we will confirm a collection date.
All proceeds from sales will be used by the Friends to benefit maternity services in Brighton & Hove