Brighton and Hove: a pocket miscellany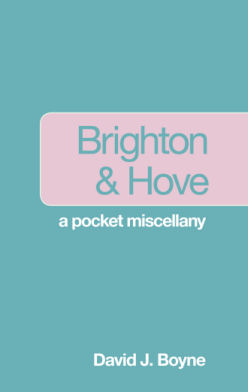 If ever there was a category on Trivial Pursuit for Brighton and Hove, then this little book would be essential reading for players. Did you know that:-
Brighton is home to the world's oldest aquarium and the UK's oldest electric railway
There are over 400 pubs in Brighton and Hove
Brighton and Hove welcomes 8 million visitors annually and has been voted one of the top five cities that tourists want to visit during their stay in the UK
Brighton and Hove Council employs approximately 9,000 people
In 1933 it was proposed that the Clock Tower be demolished and the debris used on the roads
This engaging little book is packed full of insider knowledge, facts, figures and the secrets of the vibrant city of Brighton and Hove: diversity, culture, the arts, history, comedy, festival and creativity in bucket-and-spade-loads.
David J. Boyne has a degree in Contemporary History and a brace of Masters degrees; one an MBA and the other in history. He is currently researching for a doctorate in Contemporary History at the University of Sussex and has lived in Brighton for 20 years.
The book can be purchased directly from The History Press, from book stores in and around Brighton, such as City Books, and from online retailers such as Amazon.