Brighton's County Hospital 1828-2007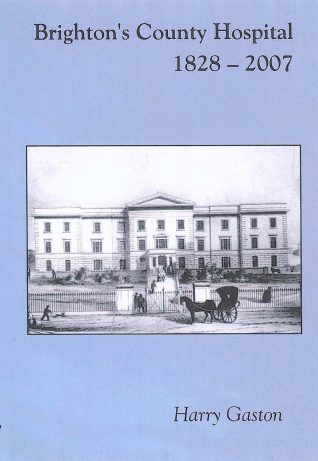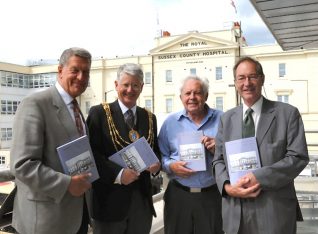 A new book telling the inside story of the Royal Sussex County Hospital was published on Wednesday 11th June – exactly 180 years to the day the first patients entered its doors. The book charts its progress from its early years as a sea bathing infirmary until its emergence as a leading University teaching hospital.
The author, Harry Gaston, was a senior Brighton hospital administrator and editor of the award winning house journal The Bulletin for 40 years. Harry's hospital career began nearly sixty years ago when he joined the clerical staff at Newhaven Downs Hospital.
Brighton's County Hospital 1828 – 2007 includes many photos published for the first time as the author was allowed access to the hospital archives. There are an impressive 165 images, with a time frame of 1828 to the present day.  Chapters have excellent supporting notes and the extensive index makes searches for anything extremely simple. This is essentially a history book, but it also personally engages the reader by providing not only the facts behind the development of the hospital, but also the human stories which are inevitably interwoven into its history.
To recognise the enduring work of the  Friends of Brighton & Hove Hospitals and due to the support of Brighton & Sussex University Hospitals NHS Trust, all copies of the book sold will benefit the Friends of Brighton & Hove Hospitals. The Friends are delighted to be the main beneficiary from sales of the book.   Although only founded a mere 58 years ago in 1949, the Friends has a City-wide reputation for providing equipment and services to support NHS patients, making their lives more comfortable, more convenient and more personal.
Brighton's County Hospital 1828 – 2007 is available directly from
Friends of Brighton & Hove Hospitals. 
Price £15 inclusive of postage and delivery.
Please send cheques payable to to:
37 St George's Road
Brighton
BN2 1ED
01273 664936
hospitalfriends@lineone.net
www.hospfriends-brighton.org.uk
Brighton's County Hospital 1828 – 2007 is also available from local bookshops and online retailers.