Victorian Chroniclers of Brighton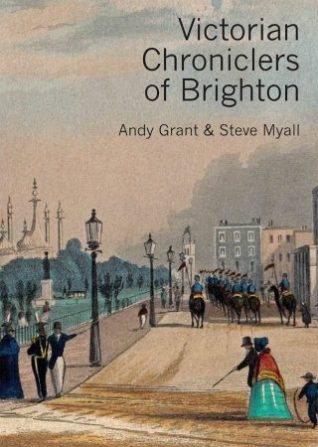 In a new book, Victorian Chroniclers of Brighton, published by The Regency Society, Andy Grant and Steve Myall (you can read about the authors here) tell the story of the triumphs and tribulations of chroniclers Erredge, Bishop, Grant and Mason, with illustrations of the publications and prints from their own collections. All proceeds from the sale of this book will go to The Regency Society, enabling them to fund more projects directly related to the heritage of Brighton and Hove.
To coincide with the Grant/Mayall book launch, The Regency Society have produced a website which is a most impressive collection of historic prints of the Regency and Victorian periods, collected by The Society of Brighton Print Collectors (SPBC) Before photography, sights and scenes were recorded in prints. Brighton was fortunate in being a place that attracted artists as well as tourists. Their work, presented as engravings, aquatints and lithographs, resulted in prints for residents to hang on their walls and visitors to take away as souvenirs.
Both the Victorian Chroniclers of Brighton book and the SPBC website provide the reader and viewer with fascinating and unique images previously only to be seen in specialised collections and museums. They are a 'must have' for all Brightonians interested in the town's history and development.
If you would like to purchase a copy of Victorian Chroniclers of Brighton, £20 per copy plus £2.80 p & p, you will find details here at the bottom of the page.