Backstage Brighton: Theatre-going in Brighton and Hove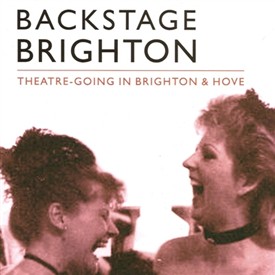 Cover Design by Louise Richardson and Matthew Parker. Cover image Sarah Croft
October 2010: QueenSpark launches 'the perfect Brighton & Hove Christmas present'!
In 1900 Brighton had more theatres than anywhere in the UK outside London. Backstage Brighton celebrates theatre and theatre-going in the city past and present. If you ever wondered what once stood on the site of the Brighton Centre or why the Sallis Benney is so called, then you'll be enthralled by the book's fascinating journey through the history and heritage of Brighton & Hove's many theatrical venues.
"My memories of Theatre Royal Brighton were 'The Single Gulp' bar (a backstage bar)… with an old barmaid who couldn't resist playing the fruit machine during performances, so always had to wait for a round of applause or a good laugh before she pulled the handle. I have to say that her timing was not that good!" Stanley Bates
Featuring:
An interview with veteran performer Clive Dunn (incl photographs of the comedian from his private collection)
A winning cover design by 2nd Year Graphic Design students at Brighton University
Sections on many of the city's long lost theatres such as: The Alhambra, The Hippodrome, The Grand, The Palace and West Pier Theatres, The Imperial, The Dolphin and The Gardner Arts Centre
Anecdotes from local people
Evocative, previously unseen photographs (many from private collections)
Visit the QueenSpark website today to find out how to purchase your own copy.