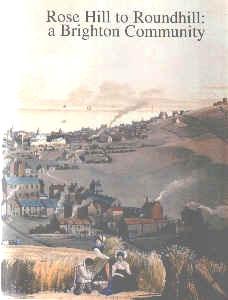 'Rose Hill to Roundhill' has been compiled by the Round Hill Local History Group and charts the history of the area, which is to the north of The Level and Park Crescent.
Once the site of the Parish dust yard
Before building commenced in earnest from the mid 1860s, the northern boundary was the site of the parish dust yard (it still is) and also a Jewish burial ground. Although predominantly residential the area had pockets of industry, particularly laundries, which took advantage of the high ground for drying. Lewes Road station opened in 1873 to serve the area and a dust destructor burnt the town's rubbish from 1886 to 1962. Many will recall Cox's pill factory where Sainsbury's now trades.
A fascinating read
The story of the above has been painstakingly researched and oral history from past and present residents completes the tapestry to the 1950s. A thoroughly recommended book that is not only a fascinating read but is well illustrated with photographs that were new to this reviewer.
The book is available from Sussex Stationers, City Books Western Road, Marcia's Hairdressers in Ditchling Road and Barfields Butchers at Fiveways
Published by Brighton Books Publishing, 80 pages, price £9.99. ISBN 1-901454-08-8.