Heritage Open Days 2009 10-13th September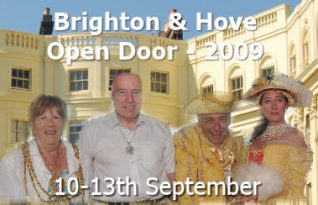 Heritage Open Days celebrates England's fantastic architecture and culture by offering free access to properties that are usually closed to the public or normally charge for admission. Every year on four days in September, buildings of every age, style and function throw open their doors, ranging from castles to factories, town halls to tithe barns, parish churches to Buddhist temples. It is a once-a-year chance to discover hidden architectural treasures and enjoy a wide range of tours, events and activities which bring to life local history and culture.
Free of charge and literally on people's doorstep, Heritage Open Days is an event for everyone, whatever their background, age and ability. This year, to celebrate the City's role as the launch venue for Heritage Open Days, Brighton & Hove Open Door offers over 150 events and activities, more than ever before.
If you would like to find out more about the Open Days and check out the list of events and activities you can see the details here.
This is a great opportunity and we hope you will be able to take advantage of the offers available. If you do visit a venue, attend an event or take part in an activity, why not take some photos of your day and write and tell us about it.  In the first instance, mail me on jennifer@mybrightonandhove.org.uk and I can help you to present your material.