Ticket advertising in 1930s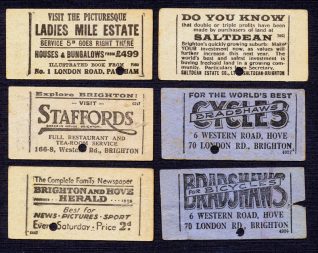 from the private collection of Brian Matthews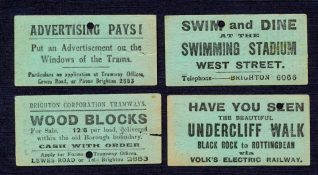 from the private collection of Brian Matthews
Thomas Tilling
The first six tickets are from Thomas Tilling Ltd, the forerunner of the Brighton Hove & District Bus Co. Ltd. Interesting reading on the 'Get Rich Quick' at Saltdean advice and the 5B service to Patcham lasted many decades. I wonder why the variance of the wording 'cycles / bicycles' in the Bradshaws' advert ?
Brighton Corporation 
The other four tickets are from Brighton Corporation trams which operated until 1939. The Corporation took advantage of their own advertising advice  -  see the sale of 'wood blocks' that had been removed from the roads during replacement/maintenance of the tram rails. At that time the Undercliff Walk only went as far as Rottingdean and presumably, because it was not mentioned, ice hockey had not yet started at the Sports Stadium.