Brighton Railway Engineering Works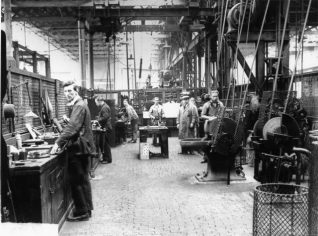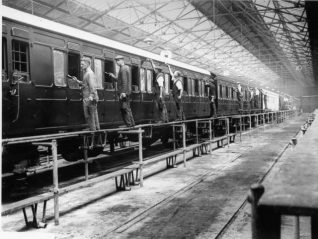 Please note that this text is an extract from a reference work written in 1990.  As a result, some of the content may not reflect recent research, changes and events.

(N.B. London, Brighton and South Coast Railway Company abbreviated to 'L.B.S.C.R.'.)
a) ESTABLISHMENT: The Brighton Railway Works occupied a large area between the main line and Boston Street, and originated at the end of 1842 when the maintenance of London and Brighton Railway stock was concentrated in the town. Carriages were fabricated from 1848, but the main locomotive  manufacturing works, and the principal maintenance and repair shops of the L.B.S.C.R. were established in 1852 by the superintendent engineer, John Chester Craven. Originally intended for Horley, these workshops were the first centre of heavy industry to be established in the town.
b) EXPANSION: In 1854 a new wheel shop was opened, and further additions were made in 1860 and 1870. In 1870 William Stroudley became superintendent engineer and standardised locomotive production to just six classes with interchangeable parts; a green livery was also introduced, and locomotives were given individual names. A new iron foundry was added in 1873, and the works were extended to the north of Old Shoreham Road when carriage-painting and cleaning shops were built in 1878. The Brighton works also handled marine engineering for the company's cross-Channel fleet, although the steamer workshops were moved to Newhaven in 1880.
Stroudley died in 1889 (the stained-glass windows from his villa in Preston Road are exhibited at the Bluebell Railway) and was succeeded by R.J.Billington who immediately extended the works out on columns over the lower goods-yard line. Manufacture was concentrated in the original portion and produced about twelve locomotives annually. By 1891 2,651 people were employed at the railway works; there was a railway institute and library at the works, reached from Peel Place, and a railway mission in Viaduct Road.
Any numerical cross-references in the text above refer to resources in the Sources and Bibliography section of the Encyclopaedia of Brighton by Tim Carder.