London main line construction 1838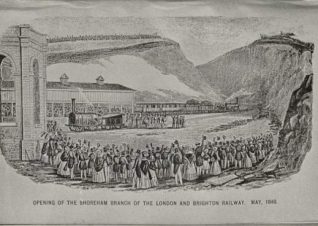 Please note that this text is an extract from a reference work written in 1990.  As a result, some of the content may not reflect recent research, changes and events.
a) ORIGINS: The first serious proposal for a railway from London to Brighton was made as early as 1823 when William James described a route from Waterloo to Brighton via East Grinstead, Crawley and Shoreham. In 1825 a route via Dorking was suggested, while a plan by Sir John Rennie involved a more direct route via Cuckfield. Several other proposals were made in the 1830s, but the choice eventually boiled down to either Rennie's direct route or one of three lines by Vignoles, Cundy, and Stephenson/Bidder which ran generally along the Adur valley. On 16 March 1836 a House of Commons committee commenced an examination of the four routes, advised by Captain Robert Alderson of the Royal Engineers. He recommended that a direct line, comprising portions of several different schemes, was the most suitable as the potential engineering difficulties could be overcome. Consequently the London and Brighton Railway Act was passed on 15 July 1837 authorising the London and Brighton Railway Company to construct a direct route with branches to both Shoreham and Newhaven.
The city terminus was to be London Bridge Station, which had opened on 1 December 1836. The tracks of the London and Greenwich Company were used for the first two miles, and from that point to Selhurst trains would run on the London and Croydon Company's lines which had opened on 5 June 1839; tolls were to be paid to these other companies for each passenger carried. South of Selhurst, a new line was to be constructed all the way to Brighton although the track between Coulsdon and Redhill was to be the property of the South Eastern Railway; no tolls were to be paid on this section, however.
b) CONSTRUCTION and OPENING: Construction of the new line commenced on 19 March 1838 under Sir John Rennie and John Rastrick, and was undertaken by a total of 6,206 men, 960 horses and 5 locomotives. The first track was laid at Hassocks in February 1839, but it was to be another thirty months, on 12 July 1841, before the line opened, and then only from London to Haywards Heath with a connecting coach service to Brighton. The line opened to Brighton itself on 21 September 1841; the first train set out for the City at 7 a.m., and the first down train arrived in the town at 2 p.m. amid scenes of great celebration. See also "Railways – Brighton Station".
Any numerical cross-references in the text above refer to resources in the Sources and Bibliography section of the Encyclopaedia of Brighton by Tim Carder.