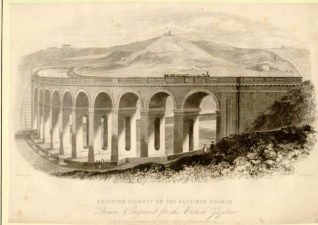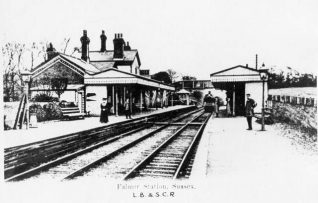 Please note that this text is an extract from a reference work written in 1990.  As a result, some of the content may not reflect recent research, changes and events.

The 1837 London and Brighton Railway Act authorised branches to Newhaven and Shoreham as well as the main line. The line to Lewes, which like the Shoreham branch was engineered by John Rastrick, opened on 8 June 1846 with an intermediate stop at Falmer. It was subsequently extended to Bulverhythe (near Hastings) by the Brighton, Lewes and Hastings Railway Company on 17 June 1846; to St Leonards on 7 November 1846; and to Ashford on 13 February 1851. Trains first ran on the Newhaven branch on 8 December 1847, and to Eastbourne on 14 May 1849. Electric services were formally inaugurated to Hastings, Seaford and Eastbourne on 4 July 1935, opening to the public three days later. Since 1972 the line has been known as the East Coastway and has seen a great increase in traffic since the 1960s with the establishment of the university and polytechnic at Falmer and Moulsecoomb.
One of the major features of the line is the viaduct between Brighton and London Road stations. Although known as the London Road Viaduct, this elegant structure in red and yellow brick actually crosses Preston Road and is now listed for its special architectural interest; it must have been a particularly impressive sight when it ran through open fields until the 1870s. The first stone was laid on 29 May 1845, and the viaduct was rapidly completed by 28 March 1846 with a total length of 400 yards on a strong curve; it reaches a height of 67 feet, has 27 arches, and uses approximately 10 million bricks. Opponents of the viaduct had argued that an embankment would be less costly and also less easily destroyed; they were proved correct on the second point on the afternoon of 25 May 1943 when the second pier to the west of Preston Road was destroyed by a German bomb. Repairs allowed trains to run again within a month, however.
At Moulsecoomb the Hodshrove Viaduct, or LewesRoadBridge, is 180 feet long and 46 feet high. There are also short tunnels at Ditchling Road (63 yards long), Falmer (495 yards), and Kingston Tunnel (103 yards) under Juggs Road near Southover.
London Road Station, Shaftesbury Place, opened on 1 October 1877 57 chains from Brighton Station with four sidings and a signal-box to the west. The station building has a standard design which was also used at Hove, Kemp Town and Portslade, and was restored when the station was modernised in 1987; the footbridge dates from 1889. Nearby in Ditchling Rise stands the elegant Railway Hotel.
Moulsecoomb Station, Queensdown School Road, was opened to the public on 12 May 1980, primarily to serve Brighton Polytechnic. The first new station on Southern Region for twelve years, it was formally opened by British Rail chairman Sir Peter Parker on 10 June 1980. Designed by Jane Gray, it has a pleasing, weather-boarded building and cost £244,000.
Falmer Station opened at the same times as the line on 8 June 1846, but was originally situated on the eastern side of the village where Old Station Cottage still stands; on 1 August 1865 it was reopened at its present site off Lewes Road. Falmer Station was rebuilt in 1890 with the station-master's house integrated into the station building. There was also a single goods siding to the east, but a goods yard was opened later on the western side of the station.
Any numerical cross-references in the text above refer to resources in the Sources and Bibliography section of the Encyclopaedia of Brighton by Tim Carder.