Responsibilities for maintenance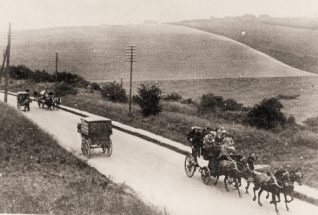 Fro the private collection of Tony Drury
Please note that this text is an extract from a reference work written in 1990.  As a result, some of the content may not reflect recent research, changes and events. .
a) HISTORY: Since at least 1285 roads were the responsibility of manorial authorities, but the Highway Act of 1555 transferred their maintenance to the parishes which were directed to appoint a surveyor, and also required able-bodied householders to contribute either money or labour towards their annual upkeep. In the eighteenth and nineteenth centuries Parliament established 'turnpike trusts' to maintain certain main highways with monies collected from tolls; the main roads into Brighton from Newhaven, Lewes, Ditchling, Cuckfield, Henfield and Old Shoreham were all turnpiked, but most were wound up in 1889 when responsibility for highways passed to the county and county borough councils. Roads within the parish of Brighton became the responsibility of the town commissioners following the 1773 Brighton Town Act, and in 1854 the corporation took over. East Sussex County Council has been responsible since 1974, but Brighton Borough Council still acts on an agency basis as the highway authority. Trunk-roads are the responsibility of the Department of Transport; as a county borough Brighton had no trunk-roads, but some short lengths of the major roads have been trunked since 1974.
Any numerical cross-references in the text above refer to resources in the Sources and Bibliography section of the Encyclopaedia of Brighton by Tim Carder.