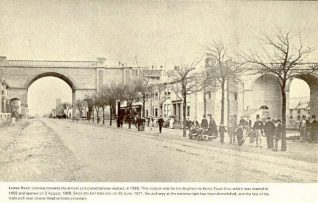 Please note that this text is an extract from a reference work written in 1990.  As a result, some of the content may not reflect recent research, changes and events.
c) LONGEST ROADS: The longest named roads within the borough; listed by road and mileage
1.Lewes Road:3.46
2.Marine Drive:3.24
3.Ditchling Road:3.20
4.Falmer Road:2.80
5.London Road (Patcham):2.61
6.Carden Avenue:2.03
7.Warren Road:1.80
8.Dyke Road:1.76
9.Marine Parade:1.37
10.Wilson Avenue:1.27
11.Madeira Drive:1.20
12.Coldean Lane:1.19
13.Mill Road:1.10
14.Preston Road:1.09
15.Surrenden Road:1.06
16.Eastern Road:1.01
17.Bexhill Road:1.00
Any numerical cross-references in the text above refer to resources in the Sources and Bibliography section of the Encyclopaedia of Brighton by Tim Carder.