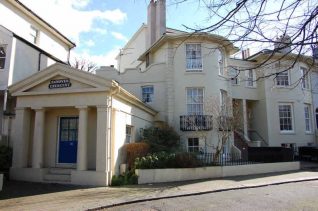 Please note that this text is an extract from a reference work written in 1990.  As a result, some of the content may not reflect recent research, changes and events.
e) STREET NAME DERIVATIONS: An explanation of the source of Brighton's street names merits a separate work. However, many may be classified into broad groups, including the following commemorative street names:
Royal forenames: Albert, Alexandra, Alfred, Charles, Charlotte, Edward, Frederick, George, Leopold, Victoria, William.
Royal dukes: Cambridge, Clarence, Cumberland, Gloucester, Sussex, York.
Royal houses: Brunswick, Hanover.
Royal residences: Carlton, Kensington, Kew, St James's, Windsor.
Dukes: Argyle, Beaufort, Bedford, Buckingham, Devonshire, Grafton, Hamilton, Manchester, Norfolk, Portland, Richmond, Somerset, Sutherland, Wellington.
Marquesses: Bath, Bristol, Bute, Exeter, Hartington, Lorne, Queensbury.
Earls: Burlington, Camden, Chatham, Chichester, Clarendon, Coventry, Egremont, Essex, Guildford, Jersey, Leicester, Liverpool, Mayo, Oxford, Powis, Shaftesbury.
Viscounts: Hereford, Sydney, Wentworth.
Barons: Chesham, Holland, Southampton, Sudeley, Tichborne, Vernon.
Peer's family surnames: Campbell, Cavendish, Compton, Grenville, Grosvenor, Hervey, Howard, Lennox, Montague, Pelham, Russell (Square), Seymour, Stanley, Wyndham.
Prime ministers: Balfour, Beaconsfield, Canning, Gladstone, Liverpool, Melbourne, Peel, Russell (Crescent), Walpole, Wellington.
United States presidents: Grant, Jackson, Lincoln, Washington.
Boer War soldiers and locations: Baden, Buller, Kimberley, Ladysmith, Mafeking, Milner, Natal, (Sir) Redvers (Buller).
Philosophers, theologians, etc: Arnold, Baxter, Bentham, Carlyle, Cobden, Cromwell, Hampden, Howard, Luther, Lynton, Milton.
Honorary freemen and women: Beatty, Carden, Churchill, Haig, Saunders, Stringer, Wolseley.
Mayors: Abbey, Aldrich, Beal, Blaker, Braybon, Brigden, Carden, Colbourne, Davey, Ewart, Galliers, Hallett, Lucraft, Pankhurst, Sadler, Southall, Stringer, Thompson.
Local landowners: Curwen, Goldsmid, Harrington, Mighell, Nevill, Stanford, Tidy, Western, Whichelo.
Topographical names are also very popular, and Sussex localities are particularly in evidence on the corporation's housing estates. Other topographical names include:
Isle of Wight: Bembridge, Bonchurch, Brading, Carisbrooke, St Helen's, Sandown, Shanklin, Totland, Whippingham.
Abbeys: Fountains, Hinton, Melrose, Romsey.
Castles: Auckland, Bamford, Bodiam, Durham, Hornby, Kenilworth, Knepp, Leybourne, Ludlow, Norwich, Taunton, Walmer.
Canadian cities: Montreal, Toronto, Quebec.
Towns of Kent: Ashford, Dover, Hythe, Sandgate.
Any numerical cross-references in the text above refer to resources in the Sources and Bibliography section of the Encyclopaedia of Brighton by Tim Carder.