Rolls Royce motor carriage.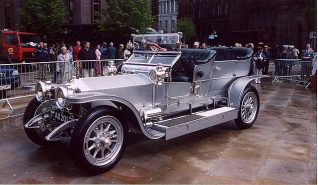 During the early, to mid-1950s there was an elderly lady who lived in Marine Gate.
She owned a Rolls Royce from the early 1920s, which may have been a Silver Ghost or early Phantom with very unusual bodywork, rather like a horse-drawn carriage that had been grafted onto a Rolls Royce chassis.
The peculiar build
The chauffeur sat outside with only a roll-out leather cover that fastened onto the top of the windscreen for when it rained. The front doors were cut-away like a sports car and didn't have windows or sidescreens. Beside him there was a very small seat for the footman. There was a speaking tube with a little trumpet beside the chauffeur's right ear for communication. The passenger compartment was about six feet high with steps to get into it and had engraved or etched glass for the windows and the door handles were of the old-fashioned carriage style. On the back there was a detachable trunk for luggage.
Such an unusual vehicle
The image here gives a small indication of the vehicle's automotive relatives. In spite of looking through several hundred photographs of old Rolls Royces I have never seen another car, (or maybe carriage?) like it. I would think that it was such an unusual vehicle that no-one would have wanted when the old lady died and was probably scrapped as were so many of these things in those days.
Does anyone remember this vehicle or the name of the lady who owned it? If you can help, please share by posting a comment below.