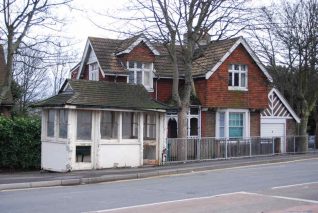 Please note that this text is an extract from a reference work written in 1990.  As a result, some of the content may not reflect recent research, changes and events.
c) CLOSURE: The increasing suburban development of the 1930s, combined with the lack of flexibility of the tramway system, prompted the corporation to opt for a new network of both trolley- and motor-buses. Tram routes were consequently withdrawn and replaced by buses from 26 April 1939 until the last Brighton tram ran from Upper Rock Gardens to the Old Steine at 2 a.m. on 1 September 1939, bringing to an end thirty-eight years of almost accident-free service. An estimated 52 million miles had been run, 629 million passengers carried, and a profit of £54,000 made by the Brighton trams.
Most of the Brighton tram-cars were scrapped for the war effort, but one does survive; no.53, dating from 1937, was discovered on a Partridge Green pig farm and awaits restoration. The other main relics of the tramways are the shelters in Ditchling Road (Florence Place), Queen's Park Road (Pepper-Box), and Dyke Road (reservoir); another has been used for the Aquarium Station of Volk's Railway, one may be found at the Stanmer Rural Museum, and two more have been removed to the Chalkpits Museum at Amberley. The tramway depot in Lewes Road is now the depot of Brighton Buses, but it retains windows etched with the words 'Brighton Corporation Tramways'. At the corner of Dyke Road and the Upper Drive is a standard that formerly supported the tram supply wires; it bears the initials 'BCT' and the borough arms.
Any numerical cross-references in the text above refer to resources in the Sources and Bibliography section of the Encyclopaedia of Brighton by Tim Carder.