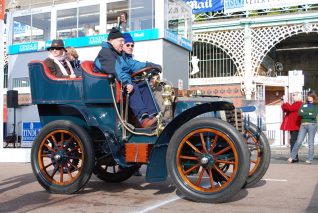 Please note that this text is an extract from a reference work written in 1990.  As a result, some of the content may not reflect recent research, changes and events.
This world-famous event was first run on 14 November 1896 to celebrate the Locomotive and Highways Act of that year, allowing vehicles to travel at up to 12 m.p.h. without being preceded by a man carrying a red flag. Known as the 'Emancipation Day Run', the vehicles, of course, were not then veterans! Following a breakfast at London's Hotel Metropole, thirty cars set off from Hyde Park for Brighton's Hotel Metropole , the first arrival being a Bollen steam vehicle after two-and-a-half hours. Altogether seventeen vehicles finished and were stored overnight at Dupont's stables in Waterloo Street, Hove, as there were not yet any car garages in the town. A few celebration runs were held in the years following, although not always to Brighton, but in the late 1920s the Brighton run was revived, and in 1930 the Veteran Car Club was formed at the Old Ship Hotel . The rally, which has never been a race, was then made an annual event with only cars of 1905 or earlier eligible. It is run on the first Sunday in November.
The Motor-Cycle Club's annual historic rally to Brighton started in 1937, while the first historic commercial vehicle rally was run in 1962.
Any numerical cross-references in the text above refer to resources in the Sources and Bibliography section of the Encyclopaedia of Brighton by Tim Carder.