Always something going on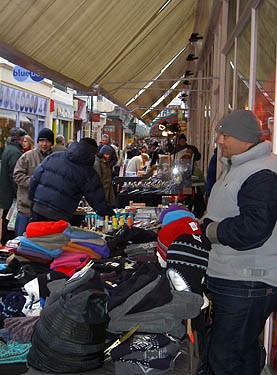 From a private collection
The thing I really like about Brighton is the North Laine shops. They're different and individual, and run by independent retailers – they're not part of any big chains. Some people have taken huge care on the front of their shops; they've made lovely mosaics or spectacular gates. Some of them have got lovely, arty sculptures and ornaments inside. There are lots of nice little shops like the bead shop.
It's just a very nice atmosphere, especially in summer, with people sitting at restaurants and outside the Komedia. This summer, during the Festival, I saw some Japanese mime artists selling their evening performance. There's always something going on.
The North Laine is the complete opposite to Churchill Square, and that part of Western Road where you've got all the big national chains. There's something very impersonal about that. Britain and America have national chains that make the whole country look the same.
I went to Brighton Polytechnic in Grand Parade, back in the early 80s. I lived here for three years then, and now I live here again.