World Naked Bike Ride 2008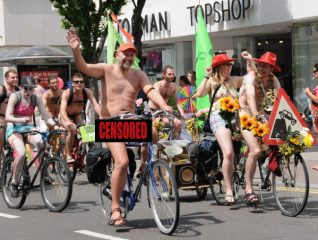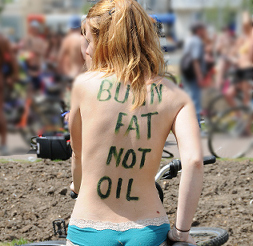 The World Naked Bike Ride is now in its fifth year, and there certainly was a terrific turnout for it in the city today.  Rides in early June are expected to mobilise 2,000+ riders across seven other UK cities (London, Manchester, York, Southampton, Sheffield and Cardiff). Worldwide, the World Naked Bike Ride takes place in over 50 locations and is believed to be the largest nude protest event in history. The ride is an environmental demonstration against oil dependency and is also a celebration of cycling and the human body.
As bare as you dare
Riding under the slogan 'real rights for bikes', participants cycle naked to highlight their vulnerability on city streets and draw attention to the destructive effects of car culture. The ride is a body-positive event where nudity is optional – riders are encouraged to go "as bare as you dare".  This year the option for full nudity was supported by the local police and so many cyclists took full advantage of the opportunity.
A fun way to protest
There was a free body painting session before the ride and so many participants were colourfully decorated in many different ways.  Some of the riders happily rode naked – but others found lots of ways to preserve their modesty with strategically placed decorations. The event went off without a hitch and the crowds who collected to watch the cyclists had a terrific time and supported the protesters with whistles and applause.
Note: We would like to assure you that our trusty photographer Tony was fully clothed during the filming of this event.