July 2001: Restoring the Clock Tower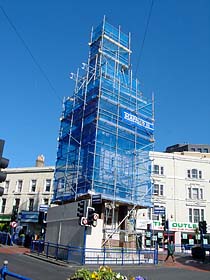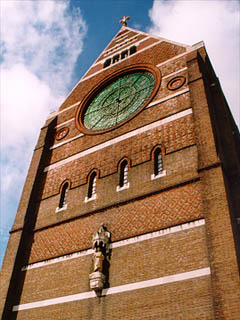 Clock Tower
Brighton Clock Tower is covered with scaffolding. It is being cleaned up, and restored so that a golden ball will rise up a mast to the top every hour. The tower was constructed in 1888. The ball-and-mast feature was quickly dismantled, because of the noise the wind made whistling through a hole in the mast. (For more history and comments about the Clock Tower, go here. The Clock Tower features in the Architect's Tour on this website.)
Essoldo Cinema
The old Essoldo cinema on North Street, Brighton has been knocked down. The building was originally the Imperial Theatre, which was opened by Jack Buchanan in 1940. The Imperial started showing films, and became the Essoldo in 1950. Fourteen years later Rank converted the Essoldo into a bingo hall, and recently the building was the venue for an unsuccessful bowling alley and nightspot called Hotshots and Jumping' Jaks.
Convert to a theatre?
Attempts were made to save the Essoldo building and convert it into a lyric theatre, but to no avail. A new development of shops and flats will be built on the site. (Have you got photos of the Essoldo at any stage in its history? If so, please let us know!. Go here for memories of cinemas in Brighton and Hove.)
St. Bartholomew's Church
The oak cross on top of St Bartholomew's Church is being repaired. The church has the highest nave in Brighton, and one carpenter turned down the job after reaching the gutter. Two carpenters with a better head for heights (from Providence Carpentry, Patcham) have taken on the job. (See more about St Bartholomew's)
Air Street
Properties in North Street Quadrant and Air Street, close to the Clock Tower, are going to be knocked down and redeveloped to make a five-storey building with shops and offices. The Quadrant pub, which is a Grade II listed building, will remain standing, but will be extended.
George Street
George St, Hove, was re-opened as a pedestrian precinct by boxer Chris Eubank. Traders on the street had mixed views about banning cars. Many feared they would lose business as a result.
Add more! If you've got any memories, images, views or links about these places – or want to highlight another place that's changing in Brighton and Hove – let us know!