A changing cityscape, 2006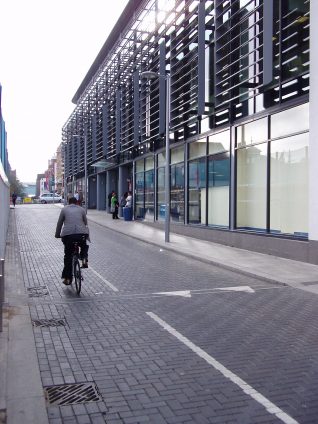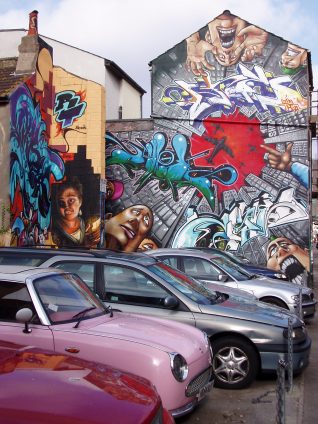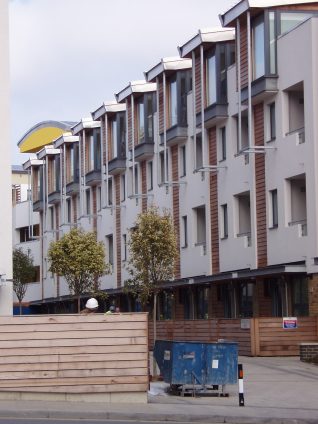 In 2004 the Brighton and Hove City Council approved numerous plans for city centre redevelopments, to include the web of streets that spread outwards from the heart of the North Laine. Since then, work has rapidly progressed, with much of it complete already, and 2008 hanging in the air as an expected final finish date.
Jubilee Street at the centre
At the centre of the redevelopment is Jubilee Street, and with its landmark eco-friendly library on one side, a Tesco Express and string of restaurants on the other, it stands as perhaps the most instantly visible changed space so far. The final transformation is expected to materialise sometime in 2007 with the addition of an £8.4m, 80-room boutique hotel, currently being built alongside the Jubilee library, complementing it in terms of style. Inside, the hotel will boast elements of feng shui in its layout and design, a gym, swimming pool, café and private library of its own.
Bordering New Road and Kensington Street
To one side of Jubilee Street is New Road, onto which the Pavilion gardens and Theatre Royal both back. Here, new developments have very recently begun to coincide with changes on the neighbouring street, the main intention being to completely relay the street surface with specially designed bricking, trees and 'urban furniture'.
On the other side of Jubilee Street lies Kensington Street, marked by the relatively new ubiquitous but popular Wagamama's Japanese restaurant on the corner. Brighton Fringe Arts have quietly occupied office and exhibition space in the Argus Lofts building in this street for some time now, but following their recent idea to commission local graffiti artists to cover the walls on the opposite side of the street it now feels much more visually connected and cohesive, somehow, with the vibrant colours of adjoining Sydney Street. And coupled with the creation of additional exhibition space, Kensington Street has opened itself up to yet more general passers-by.
Small businesses, young professionals, and another Sainsbury's
It's not just shops, streets and services that have been getting a makeover: it's houses and offices too, within the laines and beyond, from the back of the train station along Cheapside to the edges of Trafalgar Street. A combination of small business offices, modern town houses and apartments seemingly aimed at young families and young professionals will soon occupy much of this space. There are also plans for car parks, a large Sainsbury's, a community centre, a couple of luxury hotels, a European headquarters for an international teaching organisation and new improved access to the train station.
General gains or local losses
What seems to be emerging from all the change, is first, a whole new series of laines running parallel to long-time connected Bond Street, Gardner Street, Kensington Gardens and Sydney Street, and second, a whole new space in which people can live and work. Whether the businesses in these streets will find themselves in struggling competition or whether pathways will merge between them remains to be seen and will probably only be realised over time as people walk and shop where they really want to. Nevertheless, meetings have taken place among numerous traders from the established streets, all keen to protect their businesses and prevent the potential losses that change can threaten.
With changes to the infrastructure of the area too – easier access to the train station and new living space close by – will Brighton become natural home to more London commuters? And will people welcome this as positive change, in that Brighton will have boosted its independence as a city, yet at the same time improved connections with the capital? Or will they feel unhappy about the changes, seeing them as detrimental to the special feeling and nature of the city as it is – another step towards mediocrity?