Christmas wishes and local customs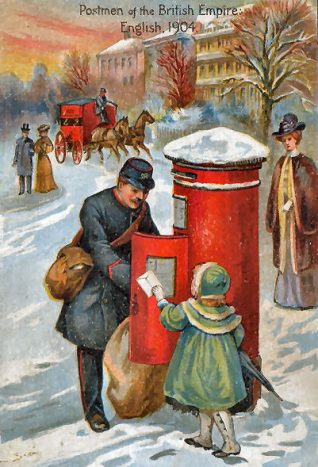 Postcard from the private collection of Jennifer Drury
The volunteer editorial team here at My Brighton and Hove, would like to send our sincere seasonal greetings to all our visitors who celebrate Christmas. We would also hope that everyone will have a happy and healthy New Year.
To mark the season, Andy Grant, one of our team of local historians, who most of you will know from his sterling work answering queries on the Message Board, has written this topical piece.
Christmas Customs
Christmas Eve
As was practiced over much of Sussex, it was customary for groups of labouring men and boys to go Wassailing of the apple trees. This entailed the group, also known in Sussex as Howlers, singing a traditional doggerel as the trees were each rapped in turn with sticks:-
"Stand fast root, bear well top
Pray the God send us a good howling crop.
Every twig, apples big.
Every bough, apples enow.
Hats full, caps full,
Full quarters, sacks full."
Accompanied by a cow's horn, a chorus or shout would be rendered by the group. After wassailing of the whole orchard, the group would then proceed to the house of the owner and sing at his door. They were then admitted to enjoy the sparkling ale and festivities of the season. It was common for a wassail bowl, consisting of ale, sugar, nutmeg, and roasted apples, to be offered to the group. It was considered to be lucky to be the first to open the house door on this festival. This practice, which was also known in other cider producing counties as 'worzling', was the origin of carol-singing. The lawful period of Wassailing was from Christmas Eve to Twelfth Day.
Christmas Day
This day was generally regarded in Sussex as a lucky day on which to be born. It was said that "if you were born on Christmas Day, you would neither be drowned nor hanged."
It was a custom to keep a piece of Christmas cake for twelve months to bring luck. There is a common saying in Sussex that you will have a lucky month for each different person's pudding you taste.
St. Stephen's Day.
The Ancient Customs of Brighton of 1581 provided that the Quarter-share of the profits of all fishing-boats should be paid to the Church­wardens on this day.
There was a curious custom in Brighton of bowling or throwing oranges along the highroads on this day. The person whose orange was hit by that of another, forfeited it to the successful "hitter."
"Mummers" were still prevalent throughout the 19th and early 20th century in Sussex on this day, calling from house to house singing a traditional mummer's song. In the areas around Shoreham, Southwick, Furze Hill, Hove and Portslade they were called Tip-teers or Tip-teerers. Their traditional dress was somewhat alike a clown, whilst others had paper or glazed lining costumes, each one representing a different character and carrying some form of badge (St. George, a Turk, etc. inevitably would appear).
References:
"Sussex Folk-lore & Customs" – Sussex Archaeological Collection