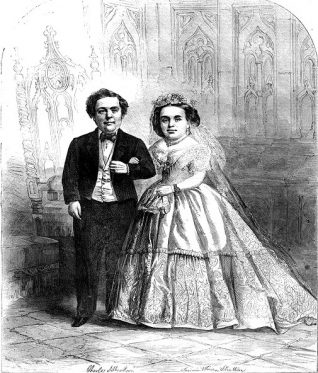 Here is this year's Christmas offering, selected from the depths of the author's collection of papers.  
Christmas Fudge
In the week beforehand, a public meeting was held in the Town Hall to consider the propriety of suspending business on the day following Boxing Day, Christmas day falling on a Sunday. Although this was initially affirmed and put forward for council action, the town clerk stated that he could not receive such a resolution. A further meeting was held later in the week and the result was a negative resolution. However, the meeting unanimously agreed to request the trades persons of the town to suspend trading on the day following Boxing Day. It was stated that the Banks had decided to close at mid-day on 26th December and it was hoped tradespersons would follow suit. The Postmaster added that on Boxing Day the Post Office would close at 10 O' Clock, as was the normal practice on Sundays.  
Christmas Spectacular
For four days, commencing on Boxing Day, General Tom Thumb and Mrs. General Tom Thumb appeared in Brighton, following their highly successful engagement at the Crystal Palace. They held the levees at the Royal Pavilion at 11, 3 and 8 O' Clock, appearing in the original costumes they were married in, with a selection of the fabulous wedding presents conferred upon them by various heads of state and other dignitaries. Also appearing with them was their infant daughter, who was described as 'the wonder of the age' Levees were 3s., 2s. and 1s., with children under 10 at half price.  
Christmas Pantomime
On boxing night at the Theatre Royal the seasonal pantomime was entitled "Harlequin Little Jack Horner (or Mother Hubbard and her Dog)". The play had been written especially for the Theatre Royal by Robert Soutar and featured 'Baron Macumawlechakeinthurschooso and the fairies of gold and silver haunts of imagination and sensation'.  
The play starred: Mr. Christy Miller as the Agile Harlequin Miss Alice Dunning as Graceful Columbine The Wonderful Almonti Brothers as Flexiible Sprites Mons . Alano as the Merry Clown Mr. W. English as the Tottering Pantaloon