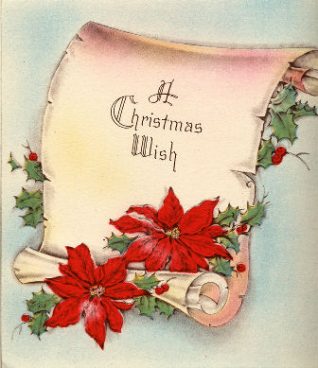 From the private collection of Jennifer Drury
The school Christmas tree
My family was lucky enough to be presented with the school Christmas tree on the last day of term. We dragged it down to our home in Milner Road from Coombe Road School. We used to spend the second half of the Christmas term making the decorations that would first adorn the classroom, and then our tiny sitting room which was shared by Mum, Dad, five children and the cat and dog.
Our small sitting room
We all sat in front of the range fireplace which also served as a stove. The children sat on the floor and parents in the two fireside chairs. There was no room for much more, as the dining room table and chairs were also squeezed into this tiny space. After hanging the home made garlands and decorating the already shedding tree, we were sent to bed to muse on the church service we had been to at St Aubyns.
Girls were three in a bed
Four girls slept in the 'big' room, which was in fact small, and our brother in the even smaller room. The bath hung on a nail 'out the back' with the lav out there too, The yard was completely taken up by the Anderson shelter, so you would make sure you had paid a visit, before climbing into the ice cold bed. Three of us girls were in one, and our elder sister in a single bed alone.
Can you share memories of your childhood Christmas? Please post a comment below
Father Christmas – not Santa Claus
We took our old stockings and laid them across the bottom of the bed. Father Christmas, (not Santa Claus) came in the night and filled each one with a tangerine in the toe, then some nuts and a selection box, if you were really lucky. The main present was possibly a jigsaw puzzle or a little attache case or something similar. Were we pleased with it? You bet we were! 
Everything was homemade
In the morning we got up to play with our small booty, whilst Mum started to cook the capon that was to be our Christmas dinner. All home made stuffing, pudding and mince pies. Happy days for the children even though everything was a struggle for Mum and Dad. We did not know we were poor because everyone around us was the same. But how do you measure poverty in those days? I think I could put forward a good argument that we were, in fact, very rich.