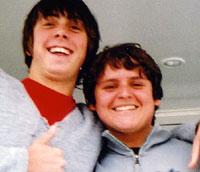 Photo by Louse Halvardsson
Christoval from Chile and Daniel from Columbia are in Brighton to study English. They've been here about a month.
"I don't like it." says Christoval. "All the houses are the same thing – small, old and dirty." He also claims that there's nothing to do. "There's just Churchill Square and the Pier. And you walk back and forth, back and forth on the seafront 'til you go mad. Nothing else." Daniel interrupts, "I don't think the city is so bad. I've been to some good clubs."
But what would they miss about Brighton if they went away? "The freedom. No one tells you what to do here," they agree.