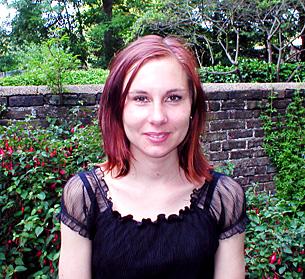 From the red phonebox in Kensington Gardens, I called my host family in Eastbourne and told them I wanted to stay a bit longer. I was 16 at the time and obviously had gone to the wrong place for my language course. But I didn't realize it until that day trip to Brighton…
Shops in funky colours
We got off at the station and walked down the North Laine. The first thing I set my eyes on was the zebra striped front of a shop building. On display in the window was a T-shirt with a logo for a famous burger chain. But the text said "Murder King." And when I looked around I saw that all the shops and cafés were painted in funky colours. In every corner kids were handing out flyers.
Like walking around in a fairy tale
After a few minutes walk a big castle appeared and it seemed completely out of place – but it had a right to be there. It was like walking around in a fairy tale; especially when we strolled through the narrow Lanes and came down to the seafront. On the Pier I was amazed to read the greeting phrases in different languages. It was when I read 'See ya mate' I promised myself to come back.
Just like an art exhibition
I could just not understand that people actually lived in this place. The city was more like an art exibition. And I wasn't sure if people in the streets were actors, tourists or residents. Everybody just seemed to walk around as if they owned the place. And the shops were selling what they felt like, not caring about whether people needed it or not. Compared to this, the whole town of Eastbourne seemed to be sleeping.
The beauty of Brighton
It was the beauty of Brighton that struck me most of all. And I guess people look happy here because they like their town. Whereever you go you feel welcomed. That's why I moved here when I had finished school in Sweden.
The sea is always there
Usually cities stress me out, but in Brighton there are so many oases to escape to. It feels intimate, because there are not very many tall buildings and you can easily walk from one place to another. And you never get lost – the sea is always there.